Create a MyFavorites account and save any before and afters you think you might like to use as examples to show us.
Basal Cell Skin Cancer Nose Septum Mohs Surgery
Before

Basal Cell Skin Cancer Nose Septum Mohs Surgery
After

Basal Cell Skin Cancer Nose Septum Mohs Surgery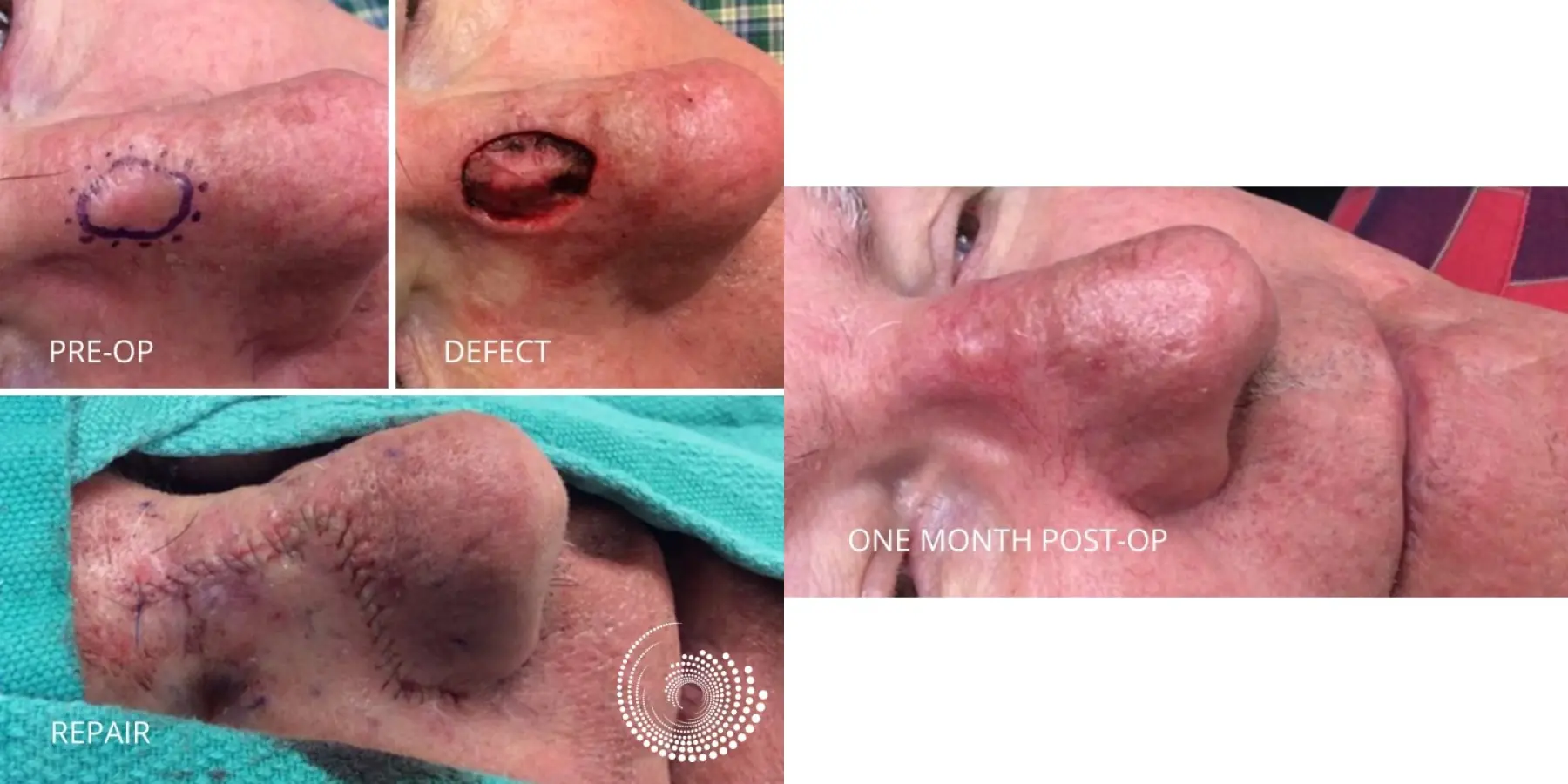 This is a 72-year-old patient was referred by his primary care doctor for consultation for evaluation and management of a basal cell carcinoma located on the septum of the nose . The basal cell carcinoma is asymptomatic. The basal cell carcinoma was previously biopsied and has been present for months.
Removal of the patient's tumor is complicated by the following clinical features: poorly defined clinical tumor borders, large size, clinical area critical for tissue conservation, and located in an area of high recurrence.
Dr. Henry recommended Mohs surgery as the most appropriate treatment for this cancer compared to other treatments. Dr. Henry discussed alternative treatments to Mohs surgery and specifically discussed the risks and benefits of curettage, excision with permanent sections, radiation therapy, and topical chemotherapeutic agents. While these remedies might be effective in some cancers, they have a higher potential of leaving cancerous cells behind, making it necessary for the lesions to be removed again. In fact, these other treatment modalities have a 10 to 15 times higher rate of recurrence when compared to Mohs surgery. The rationale for Mohs was explained to the patient and chosen as the plan to remove this tumor.
Mohs micrographic surgery is a skin cancer treatment that removes all of the cancer, minimizes the risk of recurrence, and leaves as little scarring as possible. Mohs is the most effective treatment for most types of cancer to date with a cure rate of up to 99% for skin cancer. By removing the smallest amount of healthy tissue, it also offers superior cosmetic results. Fellowship-trained American College of Mohs Surgery surgeons, like Dr. Henry, have extensive training in reconstructive surgery and are generally able to perform the reconstructive surgery immediately after microscopic analysis confirms the cancer has been completely removed.
Dr. Henry's compassion and talent are complemented by his elite training as a Fellowship-trained Mohs surgeon, the gold standard for the removal of skin cancers, with minimal healthy tissue impacted, and reconstruction following surgery. There are only 1,500 world-wide Fellowship-trained Mohs surgeons worldwide. Dr. Henry is the most experienced Fellowship-trained Mohs surgeon in this region, having completed over 17,000 Mohs surgeries to date.
MOHS SURGERY STAGES:
Step 1:
The roots of skin cancer may extend beyond the visible portion of the tumor. If these roots are not removed, the cancer will recur.
Step 2:
The visible portion of the tumor is surgically removed.
Step 3:
A layer of skin is removed and divided into sections. The ACMS surgeon then color codes each of these sections with dyes and makes reference marks on the skin to show the source of these sections. A map of the surgical site is then drawn.
Step 4:
The undersurface and edges of each section are microscopically examined for evidence of remaining cancer.
Step 5:
If cancer cells are found under the microscope, the ACMS surgeon marks their location onto the "map" and returns to the patient to remove another layer of skin- but only from precisely where the cancer cells remain.
For more surgeries, please visit Mohs Surgery Book
Age: Between 66 and 75 years old
Post-op Timeline: 1 month
Advanced Dermatology & Skin Cancer Center, PLLC